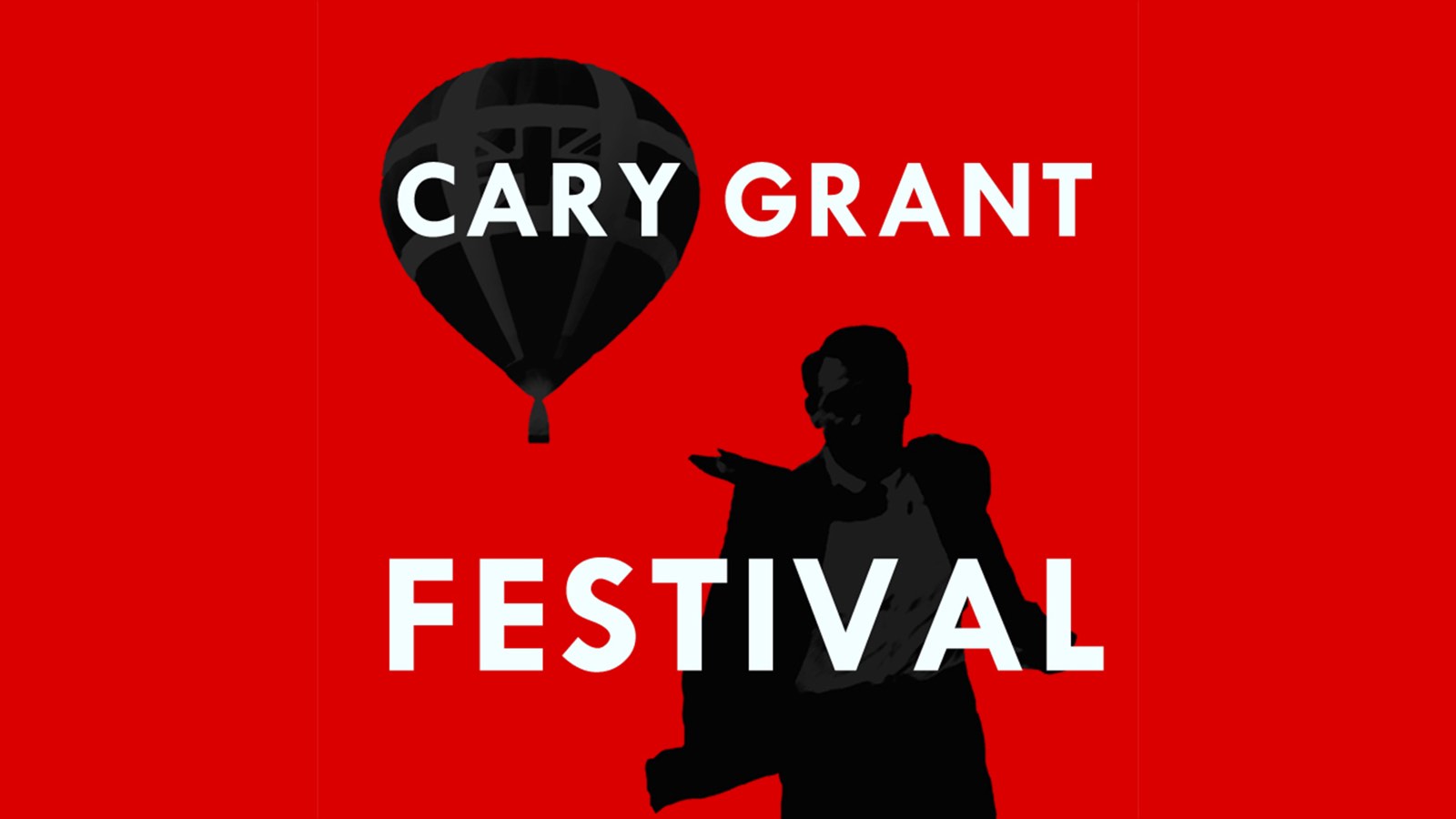 In our Spotlight On series, we spread a little bit of love and movie magic by showcasing some of the wonderful exhibitors we work with from around the world.
In this edition, we chat to Charlotte Crofts, Festival Director at the Cary Comes Home for the Weekend Festival, a weekend of screenings across Cary Grant's hometown of Bristol from the 18th-20th of November.
Can you tell us a little about Cary Comes Home and how it all started?
Cary Comes Home for the Weekend Festival - to give it its full name - started in 2014 after I'd made a smartphone app about Bristol's cinema history (The Lost Cinemas of Castle Park, now defunct). I discovered that Cary Grant had written about his cinema-going experiences growing up in Bristol as Archie Leach in his autobiography. He talks about the Clare Street Picture House which was a very posh cinema his mother took him to where he learnt how to use a pastry fork, as they used to bring dainties on a silver tray to you at your seat! But he preferred The Metropole where his father took him, it was a fleapit that smelt of raincoats and galoshes but was his favourite of the two.
I also learnt that Cary Grant had an association with the Bristol Hippodrome - as a school boy he'd visited the theatre on a science trip to learn about the recent electrical wiring. He got a glimpse of the actors and immediately fell in love with the life of the theatre. He used every opportunity to go there, bunking off school to work backstage and later joining the Pender Troupe of acrobats with whom he emigrated to New York, the first step of his journey to becoming Cary Grant. When the Bristol Hippodrome was briefly converted to a cinema in the 1930s it screened six Cary Grant films and I became obsessed with putting his films back on at the Hippodrome which became the venue for the first festival in 2014. The festival aims to celebrate Cary Grant's Bristol roots, develop new audiences for his films, and to recreate the golden age of cinemagoing.
What does Cary Grant mean to the people of Bristol?
Cary Grant is a great ambassador for Bristol, it's wonderful to be the hometown of a Hollywood legend, but for me he's the poster-boy for how arts and culture can have a transformative effect on people's lives. Young Archie's theatre and cinema-going experience in Bristol informed his trajectory and we can see evidence of this in his performances: his physical grace borne out of his training as an acrobat; and his comic timing learnt on the Vaudeville circuit and musical theatre.
Many Bristolians are aware he was born here - we have a statue to him and there's a plaque on his birthplace - but perhaps people are less aware of his ongoing connection to the city, although we do regularly meet people who remember seeing him on his many visits home: driving round in his Rolls; getting his hair cut at a hairdresser in Westbury-on-Trym. One gentleman revealed his father used to do his glasses at Husband's opticians opposite the Hippodrome; and on one of our walking tours two wings of his mother Elsie Kingdon's family met for the first time and whisked out their family tree. I think the city is proud to have Cary Grant as one of its exports, but the challenge is to keep him alive for younger audiences as the generation that remembers him coming home get older.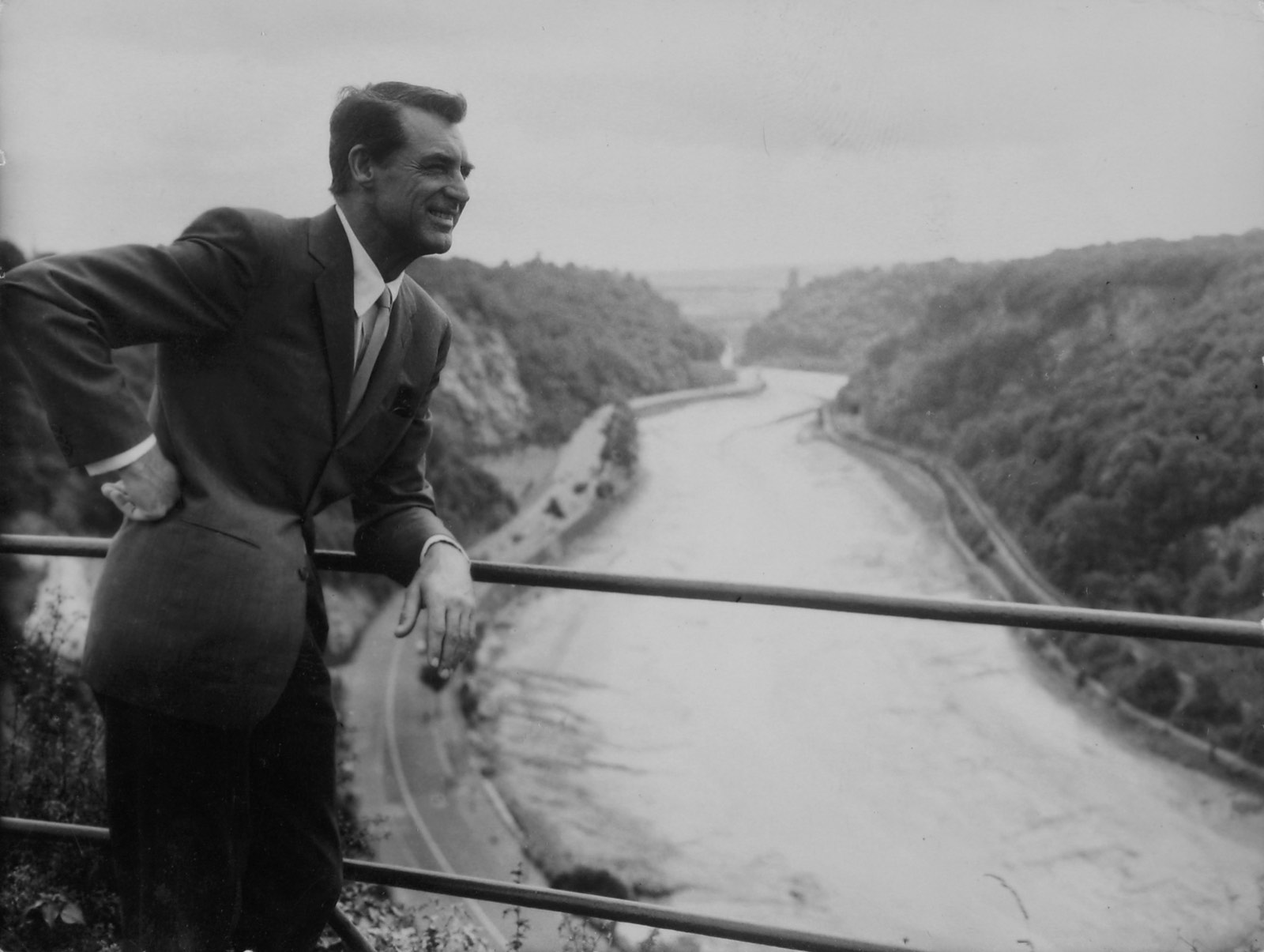 Why do you feel it's important to continue to show Cary's films on the big screen?
It's the raison d'etre of the festival - it's a completely different experience seeing him on the big screen compared to watching him on a DVD in your bedroom. In some ways I think I programme the festival just to create the opportunity to see his films with an audience. When we first screened a double bill of classic screwball comedy Arsenic and Old Lace and Hitchcock thriller North by Northwest at the Bristol Hippodrome, it was electrifying - the comedy was laugh-out-loud funnier, the thriller more terrifying. I was on the edge of my seat and hiding behind my hands. It's not just the size of the screen, it's watching it with an audience - laughter and fear are catching.
We're screening Arsenic and Old Lace again this year at the former Bristol IMAX which has been brought back to life by the people behind the Forbidden Worlds Film Festival - the screen is huge, and the Academy ratio of these old films will look amazing up there. It's important to bring his work to a wider audience and to really appreciate Cary Grant's skill as an actor. He's very much appreciated as a good-looking, glamorous leading man but he makes it look so effortless that sometimes people don't notice the craft and skill that goes into his acting, or the range of his work. He could do romantic comedy, thrillers, but also serious drama and we're showing lots of versions of Cary Grant that rarely get screened this year, from the "Cockney Cary" of Sylvia Scarlett and None But The Lonely Heart, to some of his earlier "Pre Code" performances in Born To Be Bad and Blonde Venus, as well two of his classics: the stylish 1960s comedy thriller Charade and of course the wonderfully Christmassy, The Bishop's Wife.
Do you have any personal favourite screenings since the festival started?
One of the highlights was standing on the steps of the Bristol Hippodrome after a screening of North by Northwest at the end of the first festival in 2014 with superfan Colleen Zwack who has come over from America for every festival so far - crying with the emotion of watching his films in the very venue where he started out. There's a frisson with knowing that you are walking in Archie/Cary's footsteps. Another memorable event was a drink-along screening of Notorious at Averys Wine Merchants, in association with Bristol Film Festival, accompanied by German and Latin-American wine and cheeses - the moment the famous wine-cellar scene came on screen gave me goosebumps, and we learned that Alfred Hitchcock himself used to be a customer and visited Bristol (although we're not sure if Cary Grant introduced him).
But the highlight for me is always our red-carpet gala screenings where we give out prizes for the best dressed. We showed Bringing Up Baby at Bristol Museum under the dinosaur exhibit and one whole family dressed up and the dad was carrying the missing brontosaurus bone that David is searching for in the film.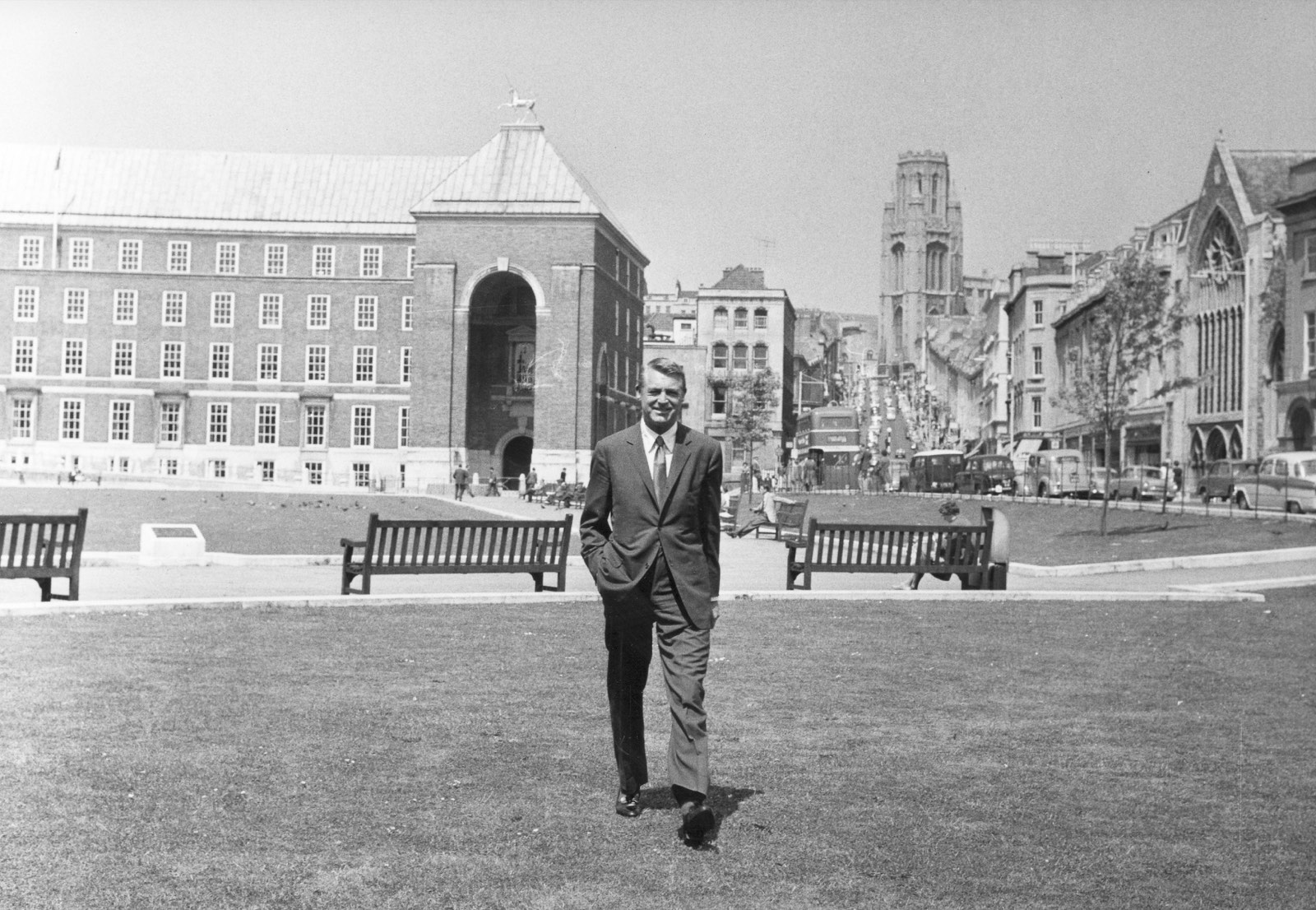 The theme of this year's festival is Class. What can audiences expect? Any personal favourite screenings you're looking forward to?
We're taking "Class" in its broadest sense and thinking about it both in relation to Cary Grant's on-screen performances and in relation to his upbringing. In terms of his life-story, he was born as Archibald ("Archie") Leach in 1904, the son of a tailor's presser Elias Leach and Elsie Kingdon. There was a history of poverty on both sides of his family; Elias was brought up by a widowed matriarch and his grandfather on his mother's side, William Kingdon, died in a poor house, after which his uncle Charles Llewelyn Kingdon lived on the HMS Formidable, a training ship for wayward boys.
On screen we associate Cary Grant with high society, playing glamorous romantic leading men, or starring in sophisticated thrillers, but we're showing some of his lesser-known work where he plays against this type. In Sylvia Scarlett, he plays an unlikeable conman, with a very dodgy Cockney stage accent, but although his co-star Katharine Hepburn was dubbed "box office poison" after this film, Grant's performance was noted and it led to him going on to be cast in his break out film, The Awful Truth. But also prefigures his darker performances, such as Johnnie Aysgarth in Hitchcock's Suspicion.
Many cite Sylvia Scarlett as the first film in which we begin to see the emerging Cary Grant - prior to this he'd just played good-looking arm candy to female stars such as Mae West. We're showing two of his early Pre-Code films, Born to Be Bad (starring a very different version of Loretta Young than the one we see in The Bishop's Wife) and Blonde Venus, starring Marlene Dietrich - both films were made before the Hays Production Code came into force, and both explore mothers who do whatever it takes to support their families. These films offer us some amazingly sassy female roles, as well as offering us a glimpse of this earlier version of Cary Grant before he has become fully formed as an actor.
I am most looking forward to screening None But The Lonely Heart in which Grant plays prodigal son Ernie Mott returning to rebuild his relationship with his mother. It was a film that was very close to his heart, for which he was nominated for an Oscar, and it is fascinating both in terms of its representation of class - Grant claimed that Mott is how he would have turned out had he not left Bristol - but also in the light of his strained relationship with his own mother who was committed to a mental hospital when he was a child. I can't wait to hear Ehsan Khoshbakht introduce the film and learn about how such a left-leaning film got made in Hollywood in the middle of the McCarthy era.
And of course I'm very much looking forward to our red-carpet gala screening of Charade at the Curzon in Clevedon, in which he stars alongside the stunning Audrey Hepburn in what has been coined "the best Hitchcock thriller that Hitchcock didn't direct". There will be lots of exciting additions including live jazz music inspired by the Henry Mancini score, Cary Grant-themed cocktails, and of course our best-dressed competition - I can't wait to see what people will wear - and we're laying on a vintage 1962 Routemaster bus for those travelling from Bristol.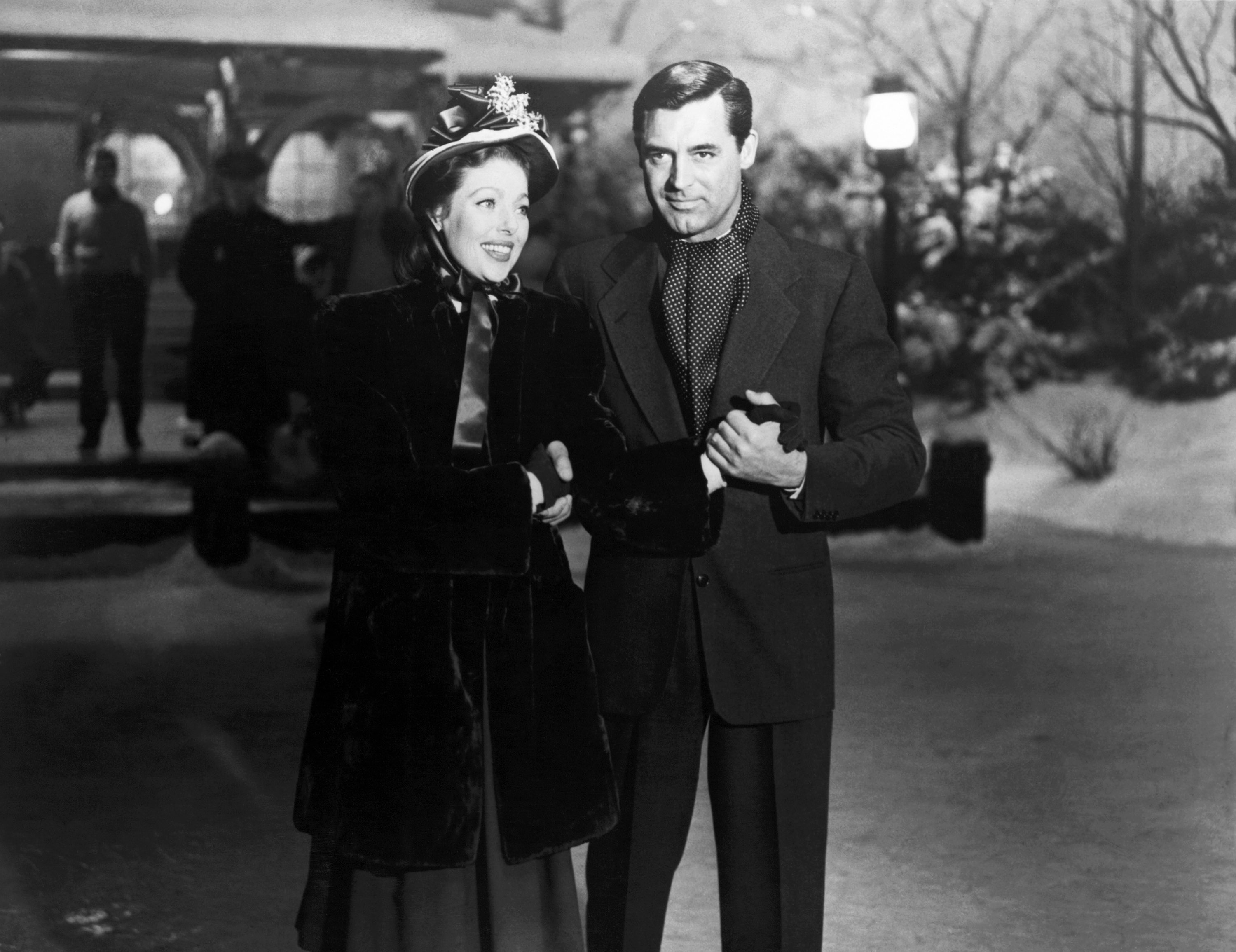 We're so excited to be bringing The Bishop's Wife back to the big screen in December, with Cary in an angelic starring role. Can you tell us a little bit about the film and why you feel it deserves to be seen on the big screen?
The Bishop's Wife is such a marvellously uplifting Christmas film that deserves to be seen on the big screen with an audience. It is often overshadowed by It's A Wonderful Life which was released the year before, but it has a huge amount to offer: romance; magic; and a very important Christmas message about charity beginning at home. Cary Grant plays Dudley, an angel who appears when The Bishop (David Niven) prays for help to raise funds to build a cathedral. But in his quest for the glory of the church, the Bishop has been neglecting both his wife (Loretta Young), and his flock. Dudley gives him more than he bargained for and by the end of the film helps him to see the error of his ways.
There are lots of wonderful cinematic effects and trick photography to bring Dudley's miracles to life: a Christmas tree magically decorates itself, there's a never-ending bottle of sherry and a wonderful ice-skating scene which showcases Cary Grant's physical grace (although some of his skating is performed by a body double if you look closely). Finally, I can't wait to see Loretta Young's cheekbones on the big screen. She has such an angelic face, very different to her role in Born to Be Bad, it's almost luminous.
What can audiences expect from your very special screening of The Bishop's Wife on 18 November?
We're excited to be screening it in St Mary Redcliffe Church - a parish church in Cary Grant's hometown Bristol, UK. It was hailed by Queen Elizabeth I as "The fairest, goodliest and most famous parish church in England" when she visited in 1574. Doors are at 6pm with the event starting at 7pm with a festival welcome, followed by a special introduction by Karolyn Grimes, who played the Bishop's daughter Debbie (she also played ZuZu in It's A Wonderful Life). There will be cocktails inspired by the film provided by Bristol-based distillery Espensen Spirit.
But it's not all about nostalgia and glamour - the film's message is even more important today amid the cost-of-living crisis. We want to practise what the film preaches, so we're working closely with the church to reach the local community and inviting donations to Redcliffe Food Bank, offering free tickets to users who might not be able to afford to come. We are so delighted to be working with Park Circus and hope the screening gets people in the mood for Christmas!
Tickets for the Cary Comes Home for the Weekend festival are on sale now. Keep up to date with the latest news by following them on Facebook, Twitter, Instagram, or by signing up to their mailing list.