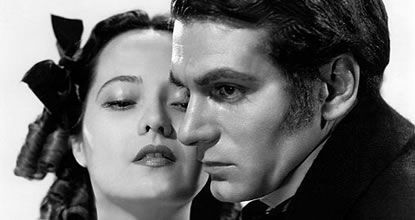 Laurence Olivier, Merle Oberon, David Niven and Geraldine Fitzgerald star in the screen adaptation of Emily Bronte's tale of passion, hatred and revenge.
Hailed as a "timeless masterpiece," WUTHERING HEIGHTS is the story of a tortured love affair between Heathcliff and Cathy, her escape by marriage to the wealthy Edgar and Heathcliff's savage retaliation upon the woman he loves. Olivier portrays Heathcliff the jilted lover who bides his time before extracting his vicious vengeance; Oberon is Cathy, object of Heathcliff's affections; Niven is Edgar, who steals Cathy from Heathcliff; and Fitzgerald is Isabella, Edgar's sister who Heathcliff marries in an attempt to gain a measure of revenge.
The film was nominated for seven Academy Awards and won the Oscar for Best Cinematography.