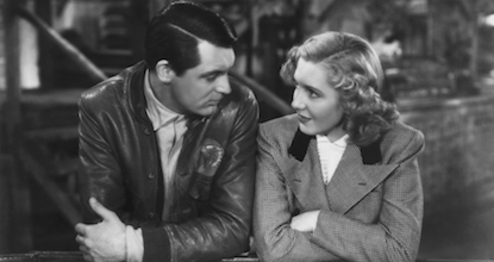 Somewhere on the coast of South America there's a ramshackle, fog-bound port and a landing strip from where mail pilots risk their lives over mountain passes to win a lucrative delivery contract. Into the life of an ace pilot and despatcher arrive two women: one a sassy nightclub pianist,, the other his ex-lover.
This is one of Hawks's most enjoyable explorations of his favourite themes: the connections between strong-willed women and stoical men, and the love and loyalty between men. Jean Arthur is obliged, like later Hawks heroines, to declare 'I'm hard to get – all you have to do is ask me', while Rita Hayworth, in an early role, is devastatingly lovely as the wife of a disgraced pilot seeking redemption.
Restored in 4K from the Original Nitrate Picture Negative and Composite Duplicate Negative by Sony Pictures Entertainment at Colorworks. 4K scanning by Cineric, Inc. Digital image restoration by MTI Film. Sound restoration from the Original Nitrate Soundtrack Negative by Chace Audio.